The Ceremony of Appointment of Visiting Professor You Zhenfeng from Taiwan Cheng Kung University was Held in our Institute
    In the morning, May 22, 2009, our Institute held the ceremony of appointing You Zhenfeng as a visiting professor. Director Liu Yu, after introducing Professor You Zhenfeng, issued the Letter of Appointment to Professor You Zhenfeng. Vice Director Cao Junji, Research Fellow Liu Weiguo, Research Fellow Jin Zhangdong and some researchers and postgraduates participated in the ceremony.
Professor You Zhenfeng, an internationally famous marine chemist and geochemist, is now a professor specially appointed by Taiwan Cheng Kung University, director of geodynamics research center and scholar of Taiwan "Outstanding Leading Project". Professor You Zhenfeng, through many years' researches, has made outstanding achievements in U-Th disequilibrium dating method, Sr, Nd, B, Be isotopic experiment and test as well actual application, and innovative and very fruitful exploration in environmental evolution of marine chemistry, land environment and water environment, etc. His research achievements have been published in international topmost periodicals such as Nature, GCA, Chem Geol, EPSL and Geology in succession, and he has won multiple awards such as D.Y. Wu Memorial Award(NSC, 2003)and T.Y. Ma Metal Award(GSC, 2000), etc.
  At present our Institute is in the key development period of three important transformations. Appointment of Professor You Zhenfeng as our visiting professor will play very important role in driving our discipline construction, scientific research and talents training, and will be helpful to further promoting scientific and technological exchange, cooperation and harmonious development across the Taiwan Strait.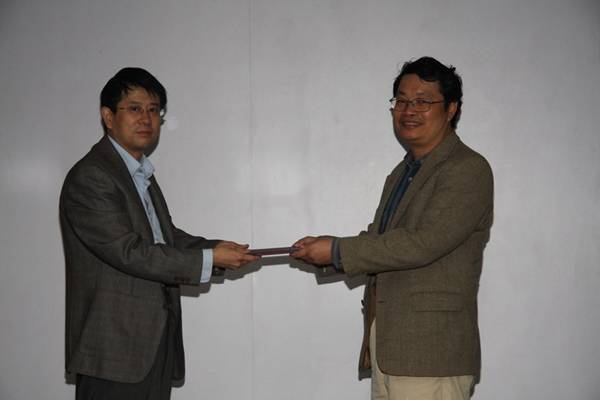 Director Liu Yu issued the Letter of Appointment for visiting professor to Professor You Zhenfeng