US National Academy of Sciences member, Prof.Inez Fung, from University of California, Berkeley, together with Prof. Jim Bishop, from Department of Earth & Planetary Science, University of California, Berkeley visited Institute of Earth Environment, CAS from September 12 to 26, upon invitation of CAS member, Prof.An Zhisheng.
Prof. Fung's research interests include the many aspects of biosphere-atmosphere interaction, with the goal of gaining predictive capability of how atmospheric composition may evolve in the future.She presented a talk titled "Isotopic view of the last glacial maximum", in which she introduced the new progress and approaches in temperature and precipitation reconstruction during last glacial maximum by oxygen isotopes. Prof.Jim Bishop presented a talk titled "Dust and ocean productivity", in which he discussed the relationship between dust iron and ocean productivity by abundant observation data collected by robots he himself designed.
Prof. An Zhisheng gave a brief introduction on Chinese loess and research progess to two visitors, and led them to a field trip to Duan Jia Po, a classical loess profile site.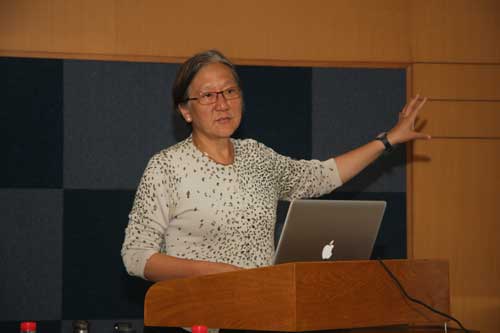 Prof.Inez Fung in her talk (Photo credit to Liu Zhao)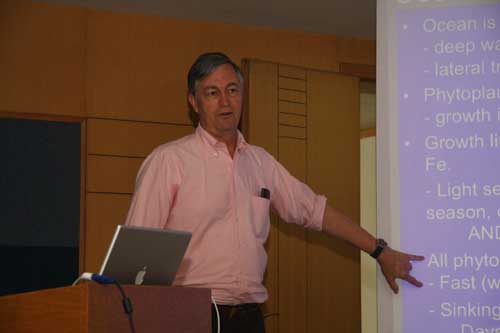 Prof.Jim Bishop in his talk (Photo credit to Liu Zhao)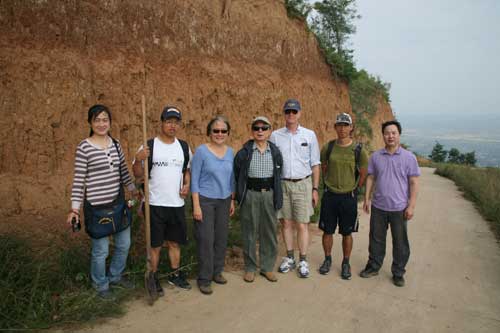 visiting loess profile (Photo credit to Ai Li)