From the Nov 7th to 14th, the 8th international symposium on Environmental Processes of East Eurasia: Asian monsoon changes and interplay of high and low latitude climates was successfully held in Kunming, China by Institute of Earth Environment, CAS. Prof.Chang Xu, director of Bureau of Science and Technology for Resources and Environment,CAS also presented this symposium.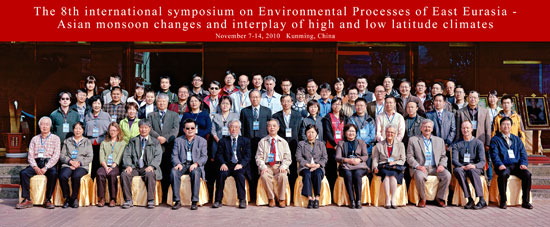 Over 60 scientists from China, USA, Germany, Japan, Korea, Russia, Mongolia, Australia discussed processes and mechanisms of the East Eurasia Environment changes, particularly focusing on the research progresses of Chinese Environmental Scientific Drilling, Lake Baikal (Russian)Drilling, Lake Hovsgol (Mongolia) Drilling.
CAS member, Prof.An Zhisheng who is also the chairman of Scientific & Organizing Committee summarized this symposium as an excellent platform for scientists of above countries to exchange research progresses and achievements, he also pointed out that the record study of East Eurasia environments have provided sufficient proxies of this region, however the mechanisms of climate change, especially the processes of climate change study, combing paleoclimate record with numerical modeling calls for continuous efforts from all groups.
In the Free discussion session, participants decided that Korea will host the 9th international symposium in 2012.
International symposium on Environmental Processes of East Eurasia was initiated by Institute of Earth Environment, CAS, Nagoya University, Korea Institute of Geosciences and Mineral Resources, Institute of Geochemistry SB, Russian Academy of Sciences, Institute of Geology and Mineral Resources, Mongolian Academy to promote cooperation and communications among institutions in East Eurasia that are devoted to climate and environment changes. Symposium has become an important platform for scientists and students in these countries.