The expansion of inland Asia deserts has considerably influenced the environmental, social and economic activities in Asia. Aridification of inland Asia, especially timing of the initiation of Asian desertification, is a contentious topic in paleoclimatology.
A group led by Prof. An Zhisheng of IEECAS initiated the study on a Cenozoic eolian sequences in Zhuanglang located at the western Chinese Loess Plateau to assign the origin of Asian desertification. They obtained a 654 m successive core by scientific drilling. The sedimentological, geochemical, mineralogical, and quartz morphological studies show that the red clay is of eolian origin. Magnetostratigraphic correlations indicate that this core spans from 25.6 to 4.8 Ma, and typical eolian red clay appears as early as 25 Ma. These results extend the lower limit of the red clay on the Chinese Loess Plateau from the previously thought early Miocene back into the late Oligocene. This new red clay record further implies that the onset of inland Asia desertification was at least by the late Oligocene.
Related paper entitled "New eolian red clay sequence on the western Chinese Loess Plateau linked to onset of Asian desertification about 25 Ma ago" by Qiang XK, An ZS, Song YG, et al. was published in Science China Earth Sciences (2011, 54(1), 136-144). http://www.scichina.com:8080/sciDe/EN/abstract/abstract501658.shtml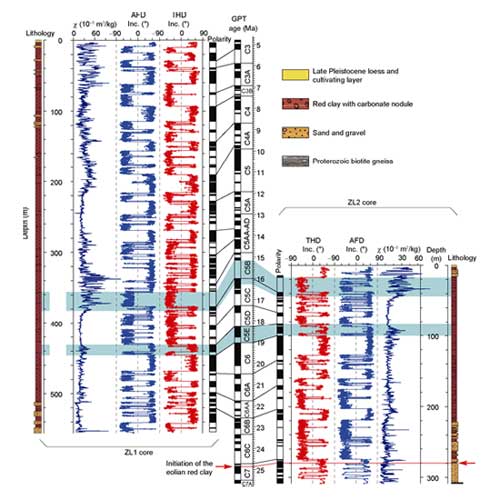 Figure 1. Lithostratigraphy, magnetic susceptibility, and magnetostratigraphy of the ZL1 and ZL2 cores, and their comparison with Geomagnetic Polarity Time Scale (GPTS) . AFD, alternating field demagnetization; THD, thermal demagnetization; Inc., inclination.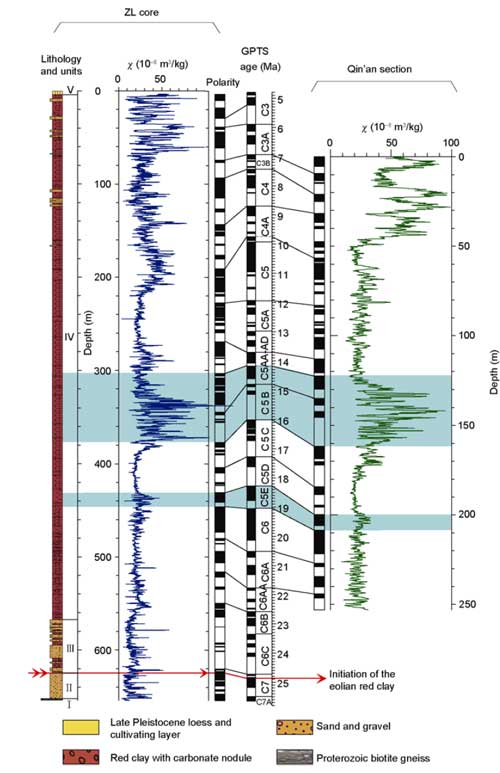 Figure 2. Magnetic susceptibility, magnetostratigraphy of the composite ZL core and their correlation with those of the Qin'an section and the Geomagnetic Polarity Time Scale (GPTS)
Provided by Yu XF