The term 'Little Ice Age' (LIA) represents a well-recognized cold period in the past millennium, which has been extensively recorded in historical archives and proxy data from around the world. In spite of a global cold event, the timing and intensity of LIA vary highly between regions, resulting in different pattern of glacial fluctuations in glacierized mountains, such as those on the Tibetan Plateau. The Tibetan Plateau contains the largest number of glaciers outside the polar regions. Understanding the timing and nature of LIA glacial activities on the Tibetan Plateau could provide insights into clarifying climate changes over the past millennium in regional and global scales.
Prof. ZHOU Weijian, with the collaborators, carried out 10Be surface exposure dating east of Mount Jaggang area, central Tibet, to constrain the timing and extent of LIA glacial activities. They suggest that at least two glacial events occurred during the LIA east of Mount Jaggang (Fig.1): a relatively extensive glacial advance occurred around 267±36 yr and possibly responded to the relatively humid environment; and a glacial standstill might have occurred around 151±36 yr, implying that changes in temperature played a major role in causing this standstill.
This study has been published in the journal of "the Holocene" . This research was supported by the National Natural Science Foundation of China and the Chinese Academy of Sciences.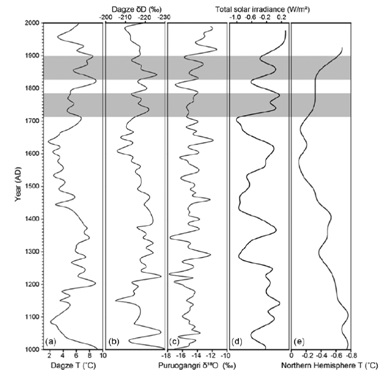 Fig.1 Comparison of the timing of LIA glacial events east of Mount Jaggang and selected published climate records (Image by Dong et al.).
Contact: DONG Guocheng, State Key Laboratory of Loess and Quaternary Geology, Institute of Earth Environment, Chinese Academy of Sciences, Xi'an 710061, China.
Email: donggc@ieecas.cn