A better understanding of terrestrial temperature variation is essential in deciphering global climatic changes, enhancing the development of climatic models, and projecting regional temperature variations on land.
However, primarily due to lacking of suitable proxies, our current understanding of the patterns and processes of Quaternary temperature changes has heavily relied on studies of marine records, while long-term land paleotemperature reconstructions have been rare.
A research team led by Prof. LIU Weiguo from Institute of Earth Environment (IEE), Chinese Academy of Sciences reported the longest (800 thousand years) land surface temperatures (LSTs) based on distributions of soil fossil bacterial glycerol dialkyl glycerol tetraethers preserved in well-dated loess-paleosol sequences at the center of the Chinese Loess Plateau. Their findings were published in Nature Communications on April 29.
They found that temperature variations on land quite differ from marine temperature records that were used as benchmarks for global climate change. A previously-unrecognized increasing early and prolonged warming pattern toward the northwestern plateau at the onset of the past seven deglaciations was observed, corresponding to the decrease in vegetation coverage.
Combining modern observation data, they proposed that underlying surface vegetation or lack of vegetation played an important role in regulating LSTs, superimposed on the fundamental global glacial-interglacial changes.
This new finding provided novel insight into our understanding of the past temperature change history of the Loess Plateau and projecting the future climate change.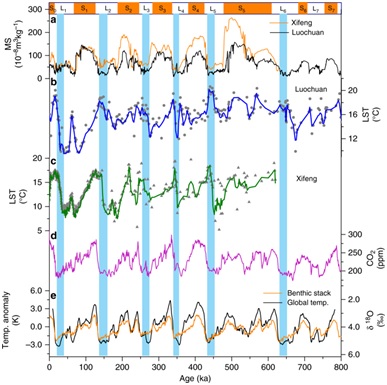 800-kyr land surface temperature records from Luochuan and Xifeng sections on the Chinese Loess Plateau, compared with onsite magnetic susceptibility and global/marine indicators. (Image by LU Hongxuan, et al.)
This project was supported by the Chinese Academy of Sciences projects, the National Natural Science Foundation of China, the National Key Research and Development Program of China and a Civilization Research Fund from the Charles J. Smiley Endowment at Bryant University.
Contact: Bai Jie, Institute of Earth Environment, Chinese Academy of Sciences, Xi'an, China. Email: baijie@ieecas.cn