The intensity of the East Asian summer monsoon (EASM) are critical for regulating the regional hydrology, ecology, and human civilization, especially in the vicinity of the summer monsoon limit (SML), the northernmost location of summer monsoon precipitation.
The accurate location of the SML during the transition from the Medieval Warm Period (MWP) to the Little Ice Age (LIA), which occurred ~1300 AD, as well as its impacts on ecology and society, is poorly understood due to the lack of high-resolution paleoclimate archives.
A study led by Dr. LAN Jianghu from the Institute of Earth Environment (IEE) of the Chinese Academy of Sciences investigated a 533-cm section from Lake Zhongquanzi, located in the northernmost part of the Minqin Basin in arid northern China, to reconstruct the history of EASM during the past two millennia.
The researchers found that EASM intensity was strong during the MWP, but it dramatically weakened during the MWP-LIA transition. The SML retreated southeastward significantly from along the Yinshan Mountains, Yabulai Mountains, and north of Lake Qinghai.
This may have primarily but nonlinearly been a response to the reduction in solar irradiance and its associated changes in atmospheric circulation (e.g., El Nino–Southern Oscillation and Siberian High).
The researchers revealed that the EASM in arid northern China showed a dramatic weakening during the MWP-LIA transition, and played a profound role in influencing hydrology, ecology, and human civilization in the marginal summer monsoon region.
The study, published in Geology, was supported by the joint Natural Science Foundation of China (NSFC) and Israel Science Foundation research program, the NSFC, the Second Tibetan Plateau Scientific Expedition and Research program, the Youth Innovation Promotion Association of the Chinese Academy of Sciences (CAS), and the West Light Foundation and International Partnership Program of the CAS.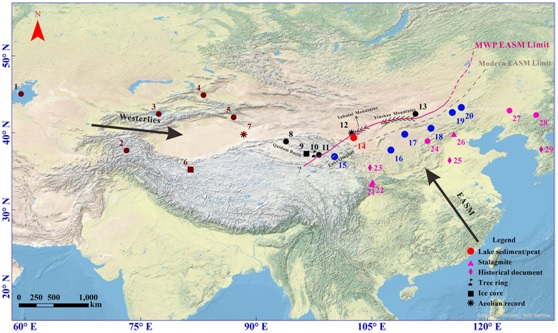 Fig.1 Location of Lake ZQZ (red dot), other sites mentioned in the text, and the Summer Monsoon Limit. (Imaged by LAN, et al.)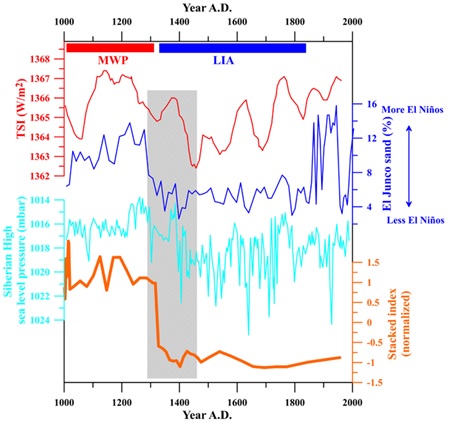 Fig.2 Possible forcing mechanisms related to the dramatic weakening of the EASM (gray shading) in arid northern China during the Medieval Warm Period (MWP)–Little Ice Age (LIA) transition. (Imaged by LAN, et al.)
Contact: Bai Jie, Institute of Earth Environment, Chinese Academy of Sciences, Xi'an, China. Email: baijie@ieecas.cn