The Lanzhou Basin located in the northeastern Tibetan Plateau (Fig. 1) contains abundant Oligocene–Miocene mammal assemblages, which are crucial for exploring mammal adaptation and migration related to Tibetan Plateau uplift and climate changes. The Quantougou (QTG) Fauna in central Lanzhou Basin is an important late Mid-Miocene fauna, but its numerical age remains a matter of debate.
Recently, a research team led by Dr. ZHANG Peng from the Institute of Earth Environment (IEE) of the Chinese Academy of Sciences presented a new magnetostratigraphy for a fluvio-lacustrine section in the central Lanzhou Basin.
The combination of magnetostratigraphy and biostratigraphy indicated that the QTG section spaned from polarity chrons C5Cn.2n to C5n.2n or C5An.1n (Fig. 2), with ages of ca 16.5 to 10 Ma or 16.5 to 12 Ma. The QTG Fauna was located at the top of polarity chron C5r.3r or C5Ar.2r, which corresponded to an age of 11.7 or 12.8 Ma for the fauna.
Accordingly, the associated Myocricetodontinae (a subfamily of Gerbillidae, Rodentia) was suggested to have appeared in the Lanzhou Basin at 11.7 Ma or 12.8 Ma, which was the oldest Myocricetodontinae in East Asia but was still much younger than the ~20 Ma appearance of this subfamily in West and South Asia (Fig. 1).
The age data supported the interpretation that East Asian Myocricetodontinae originated from South Asia. The QTG fauna further suggested a dry and open grassland environment, which was consistent with global cooling after the Mid-Miocene Climatic Optimum.
This work, published in Geoscience Frontiers, was supported by the National Natural Science Foundation of China, the Second Tibetan Plateau Scientific Expedition and Research (STEP) program, and Chinese Academy of Sciences "Light of West China" Program.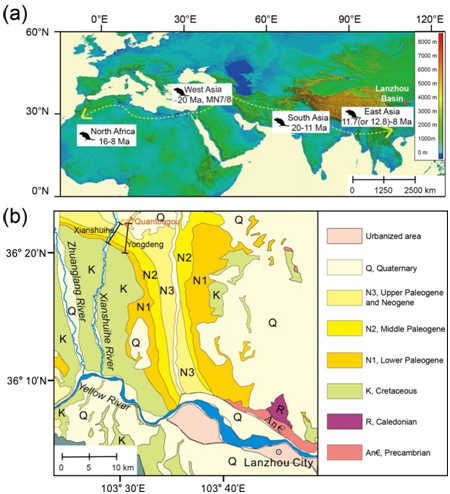 Fig.1 (a) Schematic illustration of the distribution of Miocene Myocricetodontinae in North Africa, West Asia, South Asia, andEast Asia, and (b) geologic mapof the Lanzhou Basin with the location of the studied Quantougou (QTG) section and other relevant sections indicated.(Imaged by ZHANG Peng, et al.)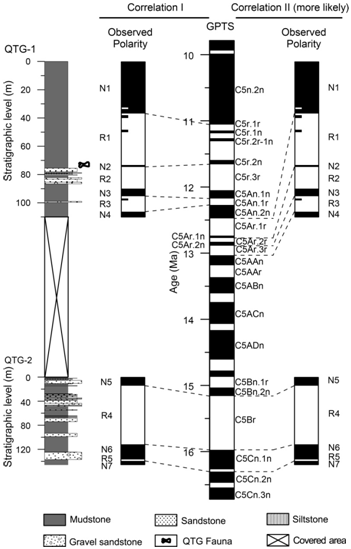 Fig.2 Lithostratigraphy and magnetostratigraphy of the Quantougou section and the correlations to the GPTS. (Imaged by ZHANG Peng, et al.)
Contact: Bai Jie, Institute of Earth Environment, Chinese Academy of Sciences, Xi'an, China. Email: baijie@ieecas.cn