Chemical weathering plays a key role in the global mass cycle and the carbon consumption. Glacial comminution associated with mechanical grinding of glacial abrasion produces significant amount of fine-grained sediment that is susceptible to chemical weathering.
However, the researches on chemical weathering in glacial environments are limited. In addition, carbonate weathering has gradually become a research focus in the field of surface process research in recent years due to its significant control on water chemistry.
Therefore, how to effectively distinguish and quantify silicate and carbonate weathering processes is the key to accurately assess chemical weathering and global climate change trends. Especially under the global warming trend, the study of chemical weathering in glacial basins is important to investigate the mechanism of rapid response of surface processes to climate change on short time scales.
The riverine Mg isotopes are potential tracers for both silicate and carbonate weathering. However, multiple factors including source and fractionation constrain the riverine Mg isotopes, which challenges the effectiveness of Mg isotopes to trace chemical weathering. The alpine piedmont glacial basins are less affected by biological and anthropogenic processes, thus the river chemistry could directly respond to the chemical weathering processes, which provides favorable conditions for studying the controlled mechanism of Mg isotope composition associated with chemical weathering processes under the glacial environment.
The research group led by Prof. JIN Zhangdong from the Institute of Earth Environment, Chinese Academy of Sciences (IEECAS) collected a series of samples of river water, rain, bedrocks, sediments, and eolian deposits within the Muztag catchment in the eastern Pamir Plateau from 2014 to 2016 in order to investigate chemical weathering characteristics of the glacier basin and its impact on Mg isotopes. Combined with the analysis of spatio-temporal variations of the major element ratios and Mg-Sr isotopic compositions of the river water, the influence of glaciation on the riverine chemistry and Sr and Mg isotopic compositions is further revealed.
They found that the riverine chemistry and Mg isotopic composition are mainly controlled by carbonate weathering especially at the upstream of glacial basins. The preferential carbonate weathering under glacial environment could directly release light Mg isotopes to river water, contrary to the process of Mg isotopic fractionation by secondary mineral formation. And the dominant role of carbonate weathering on the river chemistry in the piedmont glacier basin is more obvious than that in most lowland areas.
This work highlights the effects of carbonate weathering under glaciation conditions on river chemistry and Mg isotope compositions.
This research published on Applied Geochemistry, was funded by the Key Research Program of the CAS and the National Natural Science Foundation of China.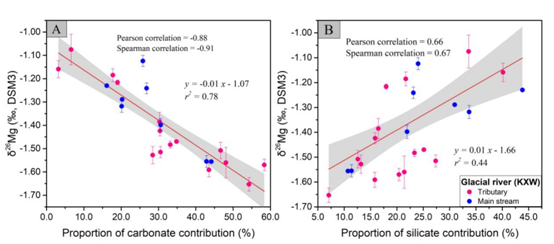 Fig. 1. Correlations of riverine δ26Mg with proportions of (A) carbonate and (B) silicate contributions of the Kangxiwa (KXW) rivers within the Muztag glacial catchment, respectively. (Image by LI Liangbo, et al.)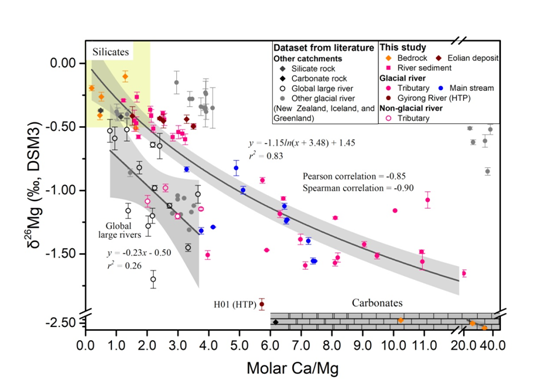 Fig. 2. Compiled δ26Mg versus molar Ca/Mg ratios for river waters, sediments and end-members of silicates and carbonates. (Image by LI Liangbo, et al.)
Contact: Bai Jie, Institute of Earth Environment, Chinese Academy of Sciences, Xi'an, China. Email: baijie@ieecas.cn