Sulfate, nitrate and ammonium are the most abundant secondary inorganic aerosols (SIA) in atmospheric fine particle matter (PM2.5). Meteorological conditions, gas-particle transportation process, and aerosol acidity (pH) can influence SIA formation.
Recently, a research group from the Institute of Earth Environment of the Chinese Academy of Sciences and their collaborators have jointly investigated how aerosol water content affect the formation of secondary inorganic aerosol.
The researchers conducted semi-continuous measurements of water-soluble inorganic ions during a winter extreme pollution event in Xi'an, northwest China. The ISORROPIA-II thermodynamic model was used to calculate aerosol acidity and water content.
They found that the increase in nitrogen oxidation ratios (NOR) and ammonia conversion ratio (NHR, the gas-particle partitioning of ammonium) from normal days to haze days were greater when compared to sulfur oxidation ratios (SOR).
In the polluted periods, sulfate and nitrate formations were facilitated by water content increase. Strong linear correlation coefficients between SOR and NOR with aerosol water content indicated that the gas-liquid reaction of SO2 and NO2 is the major pathway of sulfate and nitrate formation during severe haze episodes.
In contrast, the NHR and aerosol water content exhibited a logarithmic relationship, which revealed that when water content was greater than 100μg·m-3, the gas-particle partitioning ratio of ammonium was basically unchanged following an increase in water content.
The study was published in Atmospheric Environment on March 2.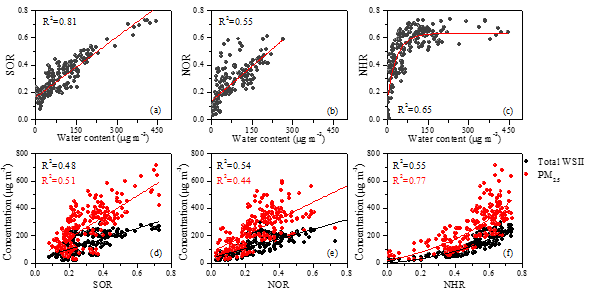 Fig. (a-c) Scatter plots of SOR, NOR and NHR verse aerosol water content (μg·m-3), (d-f) Scatter plots of total water-soluble inorganic ions and PM2.5 concentrations (μg·m-3) verse SOR, NOR and NHR.
Contact: Bai Jie, Institute of Earth Environment, Chinese Academy of Sciences, Xi'an, China. Email: baijie@ieecas.cn